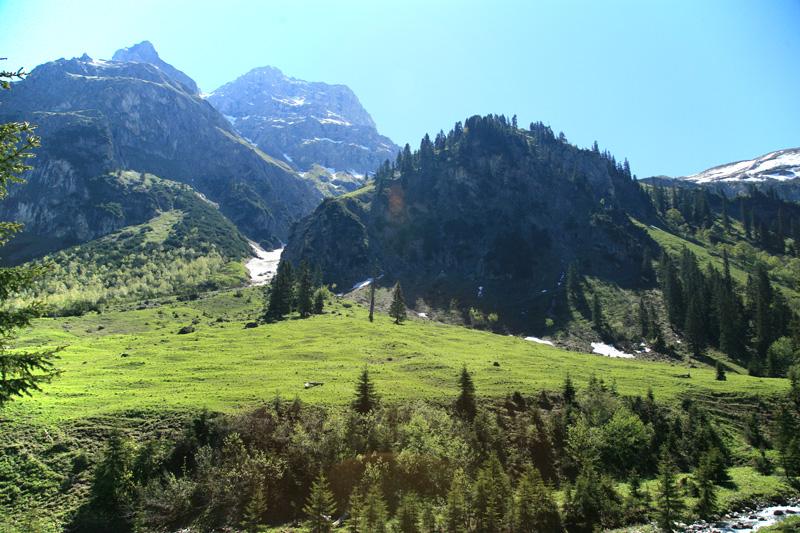 © Otti Stefflitsch / Travanto
Vorarlberg, the westernmost Austrian state, is blessed with a wealth of beautiful landscapes and cultural attractions. There are always interesting things to do in Bregenz, where the lakeshore promenade is a popular meeting place. In the summer, throngs of visitors crowd into the town on the edge of
Lake Constance
to enjoy Bregenz Festival productions. The Bregenz Art Museum exhibits contemporary works and features an extensive collection of works by pop-artist Roy Lichtenstein. Among the most popular travel destinations in Vorarlberg is Dornbirn. There, vacationers can take advantage of shopping opportunities or visit the Rolls Royce Exhibition. Families with small children have come to the right address at the interactive "inatura" exhibit. Here youngsters can experience nature hands-on and are encouraged to play and experiment.
In Vorarlberg, nature is taken very seriously. As everywhere in
Austria
, the mountains are only a stone's throw away from comfortable vacation accommodations. The Pfänder cableway lifts tourists to the 1,064 meter-high summit of the Pfänder. There one enjoys a magnificent view across more than 200 Alpine peaks. A fascinating wildlife park also attracts many visitors. Hiking in the Rappenloch Gorge is an unforgettable experience. Visitors can enjoy the winter in Vorarlberg's picturesque municipality of Damüls. At the high mountain pass of Furkajoch, sixty-four kilometers of ski runs and the popular "Uga" natural toboggan provide fun for winter-sport enthusiasts.