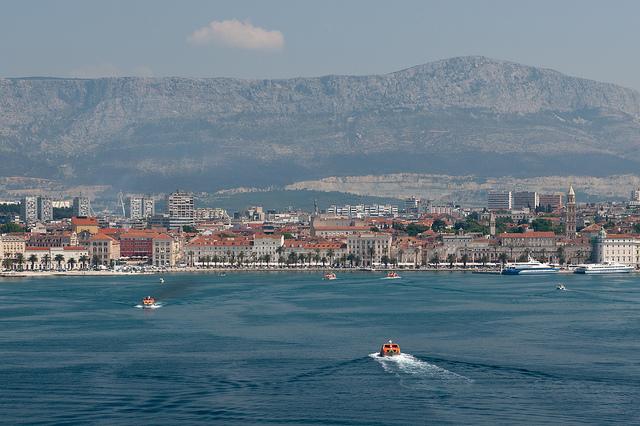 © LenDog64 / Flickr
[CC BY-ND 2.0]
The country at the east coast of the Adria is one of the most popular holiday destinations in Europe. Croatia is located south-west of the Pannonian lowland and has 4.5 million habitants. Neighbour countries are Serbia, Slovenia, Bosnia-Herzegovina and Hungary. The country has a long history and was already settled by the Illyrians in pre-Christian times. Since the 12th century Croatia had different political connections to Hungary. Not till the end of World War I. the country disengaged oneself from the Austrian-Hungarian monarchy and the kingdom Croatia, Serbia and Slovenia developed. Since June 1991 Croatia is an autonomous state.
Croatia's natural variety influences the climate of the country. In the north there is a continental climate, typical for Central Europe, within the country you mostly find a rough mountain climate and is much colder. Bora-gravity-winds in the Vellbit-mountains create the threshold of the Mediterranean climate which dominates the southern part of the country with warm temperature and lots of sun.
A rich cultural heritage and numerous natural highlights are typical for the holiday destination Croatia. A big advantage of the country is the multiplicity of sights and attractions on a small area. Romans, Greek and Venetians left their marks in the old towns of Zagreb or Dubrovnik. A very special place is the museum town Trogier which is located on an artificial island. The square Johannes Paul II. is bordered by impressive buildings from different epochs. The Diocletian's Palace is the symbol of the town of Split. This huge complex had been constructed on behalf of the emperor Diocletian in the 4th century. The Sveti Jakov cathedral is one of the biggest and most famous
sights in Dalmatia
. In Istria in the town of Pula, visitors can discover a Roman amphitheatre from the time of the emperor Augustus.
Croatia has more than 1,000 islands which are all multi-faceted and bordered by beautiful sandy beaches. The island of Cres is the biggest island in the Adria. Rich in contrast is the island Rab with lots of tors and a southern flora. The most beautiful beach area in Croatia is the Golden Horn on the island of Brac. One of the most impressive natural beauties is the Plitvitz Lake National Park with its cascading waterfalls. The Krka National Park is also full of waterfalls and opulent vegetation.