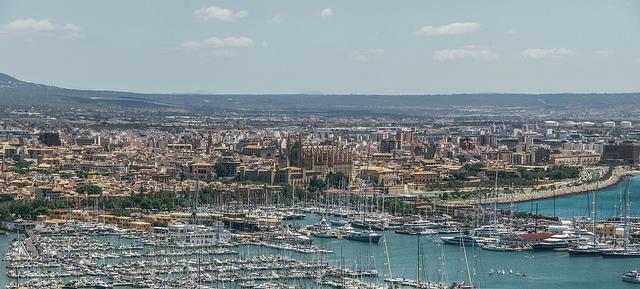 © Cristian Bortes / Flickr
[CC BY 2.0]
The most popular holiday island among the Germans carries many different names: "Malle", "Ballermann" or the "17th German province". Majorca is part of the Balearic group in the western Mediterranean Sea and is known by everyone. In the past, Majorca was mainly famous for the party area Ballermann, today the Spanish island is appreciated for its stunning landscape, various sights and numerous culinary specialties.
Majorca, with a dimension of 3,650 square kilometers, is the biggest Balearic island and the largest island in
Spain
. Approximately 870,000 people live on the island that has an east-west extension of 98 kilometers and a north-south extension of 78 kilometers. Half of the habitants live in the capital Palma de Majorca. The lively metropolis is a good destination for party-holiday. The Ballermann 6 (in Spanish Balneario 6) is a build-up of 15 beach bars that range from El Arena up to Can Pastilla. The Ballermann already opened its doors in 1960 when the locals found out what German tourists are mostly interested in: German beer and German food. They followed this trend and could raise the popularity of the Ballermann, so that a "17th German province" developed. If you are looking for a party holiday with lots of Sangria and German food, the Ballermann is the right place for you.
Everyone who is looking for a calm place far away from mass tourism and who wants to experience real culture, should go on a discovery trip outside of the capital. The rural part of Majorca with its fascinating views and the blue ocean can be found already when leaving the airport in Palma westwards. Idyllic mountain and harbour villages make you forget that you are in Majorca. The flora and fauna on the island is also very worth-seeing. You should do a hiking or cycling tour in one of the nature reserves. Real Spanish flair can be experienced at the eastern part of the island – Caribbean beaches, dunes and small villages are a welcomed change from the hotel experience.