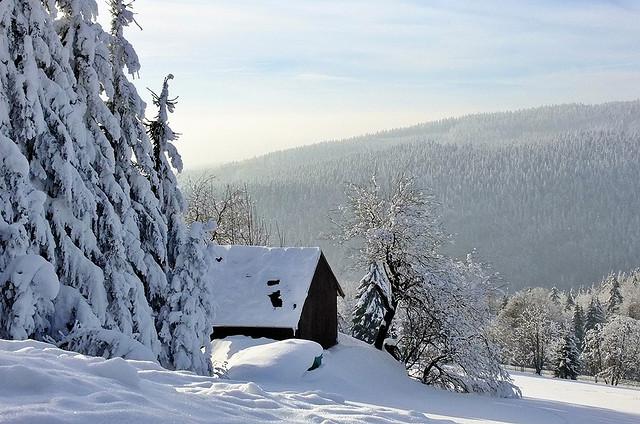 © fleckchen / Flickr
[CC BY-ND 2.0]
The
Vogtland
is a peaceful low-mountain landscape on the border areas of Bavaria, Saxony and Thuringia. The idyllic natural landscape is characterized by fields, meadows and hills and rises in Upper Vogtland to heights of 900 meters. Vogtland's highest elevation is the 974 meter high Schneehübel. Far better known, however, is the Aschberg near Klingenthal, a popular winter sport area. In Klingenthal we also find the Vogtland Arena,
Germany
's most modern ski-jumping facility. The Schneckenstein is known as the "topaz cliff" for its yellowish topaz crystals on quartz. In Tannenbergsthal one can visit an interesting exhibit on gemstone finds in Vogtland.
The best-known towns in Vogtland are the lace town of Plauen, the Neuberin town of Reichenbach and the town of Oelsnitz, widely known for its carpet manufacturing. Among the outstanding sights of the popular vacation region is the Goeltzschtal Bridge near Netzschkau. This brick bridge is considered the largest of its type in Europe. In the summer tourism in Vogtland is concentrated on the Pöhl and Pirk dams. Wellness treatments in Bad Elster and Bad Brambach offer relaxation to numerous health spa visitors. In the musical instrument museum in Markneukirchen, vacationers can learn about the long tradition of musical instrument-making in the region. The history of aerospace programs is documented in an exhibition in Morgenröthe-Rautenkranz. A side-trip to the Plohn Theme Park will excite both old and young visitors.