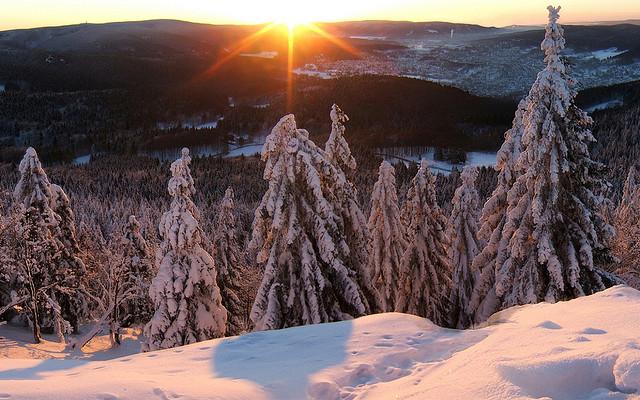 © Jim Trodel / Flickr
[CC BY-SA 2.0]
Verdant forests, crystal-clear rivers and a landscape that picturesquely embraces peaceful mountains – the Thuringian Forest is a rewarding destination in every season.
Germany
's largest continuous forest area covers the Central Uplands, and so it is hardly surprising that it is home to an impressive range of fascinating plant and animal species. In a narrower sense, the designation refers only to the mountain ridges in the northwest of the area. The highest mountain in the Thuringian Forest, the Großer Beerberg, is about 983 meters high, but the Schneekopf and the Große Finsterberg are also familiar to many visitors. In both summer and winter, the mountains offer wonderful opportunities for relaxation in the midst of a restful natural landscape.
One of the most popular destinations in the Thuringian Forest is probably Germany's best-known hiking trail – the Thuringian Rennsteig. The starting point for numerous extended walking tours is the middle reaches of the Werra River. Across the ridges of the Thuringian Forest, the trail leads to the upper reaches of the Saale, until it finally ends in the north of the Franconian Forest. Over the course of its 163 kilometers, large numbers of overlooks and possibilities for stopping at inns let hikers forget the stresses and strains of their hiking tour. Anyone who tires of hiking and would like to look more closely at the cities and towns in the region will inevitably visit Eisenach. Besides the Wartburg, the former residence city of the landgraves offers a picture-perfect city palace and also provides a good opportunity to walk in the footsteps of Martin Luther. As well, the university city of Ilmenau is the take-off point for many visitors in the Thuringian Forest. Already Goethe stayed in the city, which in past centuries managed to make a name for itself in the glass and porcelain industry.
Due to its central position, the Thuringian Forest is also an ideal destination for those seeking to defy the cold season and recover with winter sport. The town of Oberhof is a familiar name for many winter-sport enthusiasts, because here skiing is high on the list of things to do. There are prepared ski trails for passionate cross-country skiers, e.g., in Zella-Mehlis, a state-certified leisure resort. As well in Ruhla and Masserberg, friends of cross-country skiing get their money's worth. Naturally, one can toboggan and ice skate in many winter sport areas and thereby take in the idyllic winter landscape.