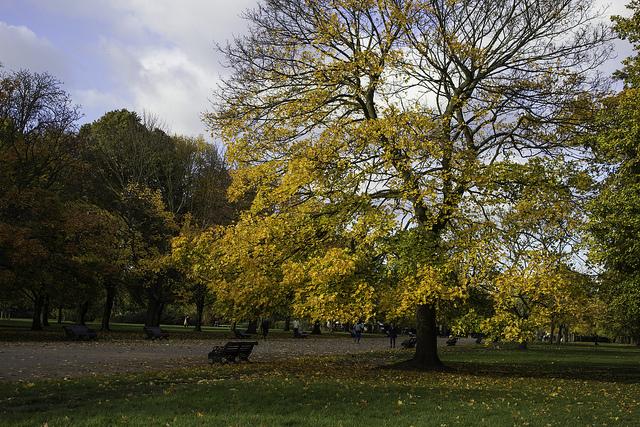 © Pavlina Jane / Flickr
[CC BY-SA 2.0]
Outdoor enthusiasts, why not spend your next nature holidays in Great Britain? This lush green island in the north west of Europe boasts a wealth of beautiful urban and captivating wild landscapes: vast parks, landscaped gardens, spectacular cliffs, rolling hills, dark forests, soaring mountains, endless beaches, glistening lakes and mysterious moors. Summer is certainly the best season to explore the scenic marvels of England, Scotland and Wales, as temperatures are pleasantly warm and it is also the time of year with the least rainfall. However, certain natural spectacles such as the fascinating Aurora Borealis phenomenon can only be experienced during the cold months.

London's green oases
London is a prime example of how nature can be harmoniously integrated into a metropolis. Despite being extremely big, the UK's capital is an extraordinarily green city boasting thousands of hectares of diverse open spaces, where you can relax after your sightseeing tours, go for a stroll, work out or watch birds and even other wild animals. For instance, one can even observe herds of freely roaming deer at Richmond Park. With an area of over 900 hectares, it is the largest park in London and one of the eight Royal Parks, which also include the famous Hyde Park. Besides these, the Kew Royal Botanic Gardens is also a true nature paradise and it is not far from the city centre either. This World Heritage Site houses one of the world's largest collection of living plants and it features beautiful landscaped gardens and several glass houses, where not only exotic plants but also plants from ten different climatic zones prosper.

Fossil hunting in southern England
The Jurassic Coast is located in the south of England and stretches from East Devon to Dorset. It is England's first natural World Heritage site and its entire length of 155 kilometres spans 185 million years of the earth's geological history. As you follow the cliffs from west to east, the different geological periods will unfold before your eyes in chronological order. The first and oldest layers date from the Triassic period; they are followed by layers from the Jurassic period, while the final and youngest layers are attributed to the Cretaceous period. Countless fossils have been found on the Jurassic Coast's stunning beaches and with a little bit of luck, you will also return from your England holiday with a million year old Ammonite souvenir!

Mountain wilderness in Wales
Wales is a country of outstanding natural beauty. Where could one experience nature's wild side better than in the rugged Snowdonia Mountains of northern Wales? The Snowdonia National Park is one of the oldest national parks in Britain and home to the highest peak in Wales – Mount Snowdon. This 1,085 metre high summit can be reached via various hiking trails leaving off at different starting points. However, we have to warn you, ascending this mountain won't be easy, as the terrain is very rocky with steep gradients. But once you have left all these obstacles behind and reached the summit, all your efforts will be rewarded with the most spectacular views of this untamed wilderness, shaped by glacial forces thousands of years ago. Moreover, on clear days, you can even see as far as the Isle of Man and even Ireland.

Aurora Borealis in Scotland
The Scottish highlands with their picturesque lochs and glens are without doubt one of the most scenic landscapes of the entire UK but in order to experience the extraordinary phenomenon of the northern lights, you will have to travel even further north. One of the best places in Scotland to witness this mesmerizing natural light spectacle is the coast of Caithness at the northern most edge of Scotland. The Shetland Islands, the Outer Hebrides or the Orkney Isles are also perfect as these remote regions are so sparsely populated that light pollution does not affect the colourful 'Merry Dancers', which are most likely to occur in very cold and clear autumn and winter nights.

We hope that we could give you some inspiration for your next nature holidays in Great Britain and always remember, with the right clothes, there is no such thing as bad weather!