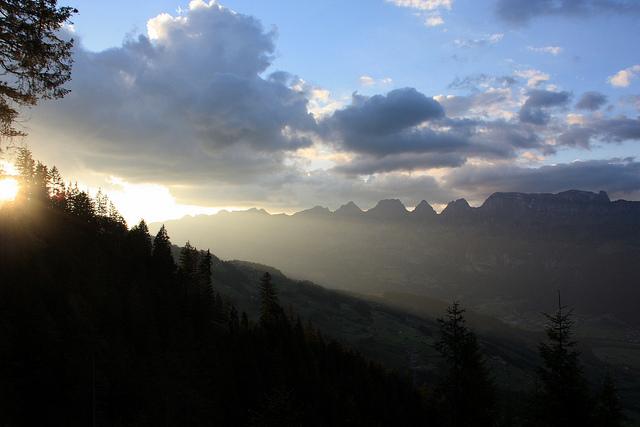 © Martin Fisch / Flickr
[CC BY-SA 2.0]
In terms of dimension, Switzerland is only one ninth of
Germany
, however it is one of the leading countries regarding tourism and quality of life in Europe. The country in the southern part of Central Europe borders on Germany,
Austria
,
Italy
,
France
and the Principality of Liechtenstein. The landlocked country Switzerland is mainly mountainous and is also called "Heart of the Alps", although, only a seventh part of the Alps is Swiss. However, the mountain landscape is amazing and thousands of snow-covered peaks are rising to the sky of the winter sports paradise. The highest mountain is the Dufour-Peak with 4,634 meters. A contrast to the mountain world is the Lago Maggiore and many others of the 1,000 Swiss lakes. The biggest ones are the Lake Constance and the Lake Geneva.
The climate in Switzerland in characterized by the Alps. Like the extreme differences in altitude there are also big changes in climate. At the northern part of the Alps there is a continental climate, typical for Central Europe. At the southern part you can feel the Mediterranean influence. In general, the weather in Switzerland is quite unsettled due to Atlantic influences. In the high valleys there is a stimulating climate with lots of sun. In the glacier region you can experience a dry arctic climate. The most favourable regions regarding weather are the southern cantons
Valais
and
Ticino
, also called the "sun-rooms" of Switzerland.
Switzerland is a very modern state, although its history reaches far back in time. Already 400 years B.C., today's West-Switzerland has been populated by Celtic tribes. The foundation of the country is based on different confederations, which were connected to the "Eternal Union" ("Ewiger Bund") in 1291. In 1848 the democratic Swiss state has been launched officially.
Switzerland is rich in popular holiday regions. Beside city trips, hiking and skiing vacations are important flagships for tourism in Switzerland. Symbol of the famous hiking region Bernese Oberland are the mountains Eiger, Mönch and Jungfrau. The most visited holiday resorts are Grindelwald and Adelboden. In Graubünden you find perfect winter sports conditions. In Davos, skiers can make use of 300 kilometer slopes. The largest community in Switzerland offers great winter sports conditions until late spring. Wellness tourism takes place in the towns of Scuol and Vals.
The Tessin region offers numerous hours of sun and southern atmosphere. The spa resorts at the Lago Maggiore are a popular destination throughout the year. In the canton Wallis everything is about the Matterhorn. Most popular towns for vacation in this region are Zermatt and Saas Fee. Do not miss to stroll through the historic town center of Bern. In the town of St. Moritz skiing has its origin. Today, the "jetset" enjoys the numerous snowbars and slopes. If you are looking for nostalgia, take a tour with the steamship on the Vierwaldstätter Lake. To get an idea of the whole beauty and variety of the destination Switzerland, you should take a ride with the Bernina-Express.