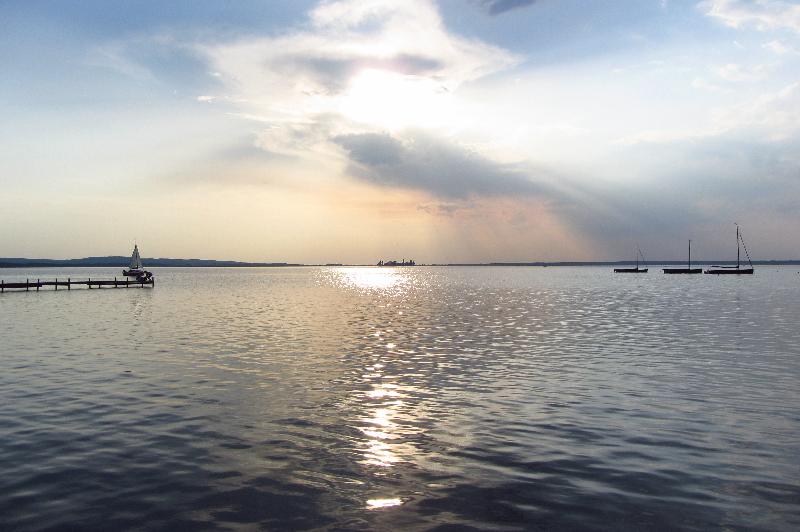 © Jürgen Ulrich / Travanto
Lake Steinhude is the largest lake in northwestern Germany. The lake forms the center of Lake Steinhude Nature Park. Nature enthusiasts and anyone in search of rest and recreation value the sustainable tourism and the numerous possibilities for outdoor activity. Lake Steinhude is eight kilometers long and is located in the borough of Wunstorf. The landscape is characterized by numerous peat bogs and wet meadows. With a little luck, one can often catch sight of wading birds and waterfowl. For tourists, nature trails and observation towers have been set up.

On the south shore of Lake Steinhude, an artificial bathing island was created. The broad sand beach can only be reached on foot. Lake Steinhude can be explored along a circular path. On the lake, sailing, surfing and rowing are possible. Numerous sights make a stay on Lake Steinhude a memorable experience. The nature center provides information on the natural landscape and its protection. Attractions for old and young include the insect museum and the reptile park in Münchehagen. In the restaurants, vacationers can enjoy Steinhude smoked eel. In Steinhude one can also visit a fishing and weaving museum. The idyllic shoreline promenade invites strolling. Romantics will choose a horse-drawn carriage ride or wander through the forests of the Hohenholz. The village of Hagenburg is suitable for long shopping strolls and disposes of tranquil castle grounds.