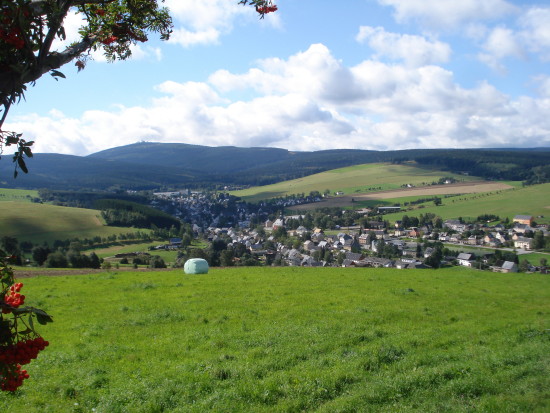 © Stefan Süß / Travanto
In the Ore Mountains you can spend multifaceted holidays at any time of the year. The 130-kilometer-long low mountain range is located in the Free State of Saxony between the mountains Geisingberg and Auersberg. For many centuries the region was famous for mining. Along the Saxon Silver Route you can discover lively industrial culture. During the Christmas season the Ore Mountains creates a very special atmosphere. Nowhere else in the world you can find so many brightly illuminated "Schwibbögen", pyramids and straw-angels. It is not without reason that the Ore Mountains is famous for folk art manufacture. If you are looking for a typical folk art souvenir, you will surely find what you are looking for in the Ore Mountains House in Schneeberg. Here you can also spend some relaxing hours in the adjacent Vault-Café. Wooden toys from several centuries can be inspected in the Museum for Ore Mountains folk art.

The town of Seiffen is well known as the "toy-village" in the Ore Mountains. Since the 17th century wooden toys have been produced in the small town. In show-workshops you can look over the toy-manufacturers' shoulders while they are producing the famous tyre animals. Everyone interested in technic can visit the Frohnauer Hammer, an iron-headed hammer from the 14th century which is still used for performances today. If you want to see the Ore Mountains in miniature form, you should not miss the exhibition-railway in Waschleithe. On the slopes of the Fichtelberg skiing is possible until April.