Cornwall Sights and Tourist Attractions
We have put together a selection of the very best sights in Cornwall, all of which have earned their stripes as one of the regions' highlights for many different reasons. Some, like Land's End or St Michael's Mount, have as great a philosophical importance as they are magnificent spectacles, while others such as the National Maritime Museum Cornwall have made it onto the list purely for their historical significance. There are some which even represent all of these things, such as Pendennis Castle and the paradigm shattering Eden Project. Whatever your interests, you are sure to find something on this page that is guaranteed to make your holiday so why not have a read through and get yourself in the holiday spirit? Experience the sights of Cornwall, from historical landmarks to the future of environmental conservation at the world famous Eden Project.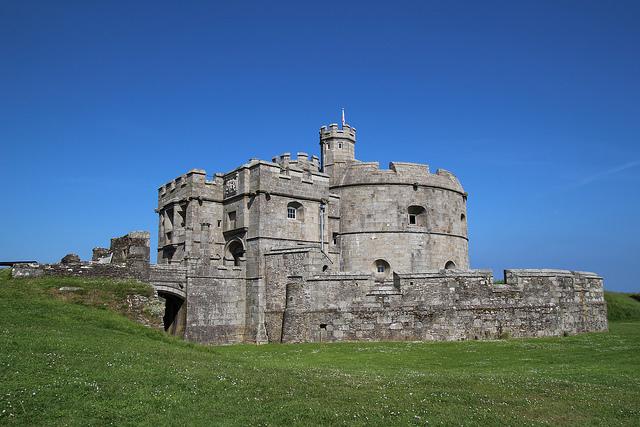 Pendennis Castle
© Kathryn Yengel / Flickr
[CC BY-ND 2.0]
Famous Buildings in Cornwall
Pendennis Castle
In 1539 King Henry VIII built the Pendennis Castle to protect Falmouth from the threat of Spanish and French naval attacks. Now its walls are under siege from a new kind of invader: holidaymakers. All year round visitors descend on this superbly preserved fort to gain an insight into Falmouth's past, from the role it played as one of three last standing royalist strongholds at the end of the English Civil War, right through to its much more symbolic use today. This is one of the finest of the mighty fortresses built by Henry VIII to defend the country against invasion. With its formidable round tower and a wonderfully intact curtain wall, it is easy to see how 1500 people managed to shelter here for 155 days during the siege of 1646. You might not want to stay for as long as they did but for a fun day out it definitely has more than enough to keep you entertained. Now that the threat to the monarchy and country has abated, you are welcome to walk around and take in the views. The castle offers an exhilarating interactive experience, which recreates an enemy attack on a Second World War observation post, and there is also the chance to see what it was like here for soldiers who were stationed at Pendennis Castle's guardhouse during those fateful times. Add all of this to the live demonstration of a Tudor gun deck and you're certain to have an unforgettable time in this historic location. A trip to Pendennis Castle makes for a great and cheap day out in Cornwall and a wonderful, educational trip for the whole family. You can explore the numerous displays and exhibits, and then take a stroll in the extensive grounds and take in the spectacular sea views. You may wish to relax in the tearoom or in the courtyard outside. On the menu is the famous 'Homity pie', made to an exact Second World War recipe. Tasty!
Truro Cathedral
No matter where you go in Truro, you need only look up to catch a glimpse of the city's staggering Neo-Gothic Cathedral, dominating the landscape with its majestic beauty. Construction began in 1880 according to a John Loughborough Pearson's design and it is in fact the only cathedral to be built in the UK after St Paul's in London. The Cathedral is a particularly stunning and extraordinary example of British architecture, belonging to an exclusive group of just three cathedrals in the whole country to boast three spires, the tallest of which standing at 250 meters high. The spires of the cathedral are a must see. They are special in so many ways, not least visually. This magnificent cathedral features highly on all Cornwall attraction lists. It's is a special landmark and one that is treasured by the population of the area, but also has its much more practical appeal as a place of worship and regular services at the heart of the community. Still, perhaps Truro Cathedral's true beauty lies within. Its Father Willis Organ, built in 1887, is considered by many to be amongst the nation's finest. The delicate stained glass windows, which line the cathedral's walls, ensure a bright and colourful atmosphere for all. Since entry is completely free, it would be a great shame not to visit at some point during your stay in Cornwall. After all, whether you are religious or not, there is no denying the sheer beauty of this building. Don't forget to visit the gift shop for a wide selection of great souvenirs to take away for friends and loved ones. They also have a delightful little cafe for when you need a cuppa or a bite to eat. They do a fine collection of teas and some delicious fruit cake, so before to sample that and recharge, before you head back out exploring!
Trewithen Gardens
With something new to discover at every turn, there is something for everyone at Trewithen Gardens. Located on the grounds of Trewithen House, one of the grandest country manors you are likely to see, these sprawling gardens offer a breathtaking taste of life for the wealthiest of England's 18th Century aristocracy. The sheer variation of flora and wildlife to be seen at the gardens is in itself astounding, with twenty-four champion trees, a sycamore avenue and a wildflower meadow just a few of the many highlights they have to offer. However, taking centre stage is the garden's Magnolia Fountain, which having been created in just 1998 by Cornish artist Tom Leaper stands as Trewithen's pièce de résistance. There are sprawling and beautiful rose gardens and the longest lawn in Cornwall for you to get lost in. This is a truly inspiring and relaxing setting, exactly what mum and dad will need after a few hours out with the kids. But there's plenty here for them to enjoy too! There is an abundance of wildlife here including a large family of lovely red squirrels, which are sadly becoming much rarer throughout the UK. Almost as stunning as its gardens is the house itself, whose exterior appearance has barely changed since 1715 making it very rare indeed among the majority of Georgian estates. Inside you can expect to see an array of antique furniture, art and paintings collected over the years by the estate's various owners, and there are guided tours for those of you who would relish the chance to learn more about this wonderful place. You can't beat this place for an inspiring stroll through the petals of flowers and beautiful shrubbery and sculptured lawns.
---
Natural Sights and Gardens in Cornwall
The Eden Project
When booking a holiday cottage Cornwall, the prospect of taking a trip to the rainforest may not be what immediately springs to mind. Yet for many, the opportunity to walk among the extraordinary tropical plants on show at The Eden Project is the sole reason for travelling to the South West of England. Comprising of two domes, which emulate a tropical and Mediterranean climate respectively, this truly is a man made paradise that leaves a long lasting impression on all of its visitors. Not only are its thousands of exotic plants beautiful in their own right but there are also many art exhibitions and live concerts taking place here all the time, which makes for an unparalleled experience. Visitors even have the opportunity to learn about conservation and get a taste of the latest research into the magical world of the rainforest in a wonderful interactive museum they call 'The Core'. Here, children and adults alike can investigate topics such as evolution, climate change and ecosystems through an array of exhibits that rivals even the amount of plant life on display in the main biomes. But the Eden project offers much more than just a fun day out for the family. It is also a very important charity, social enterprise and area of preservation and education. The Eden project is responsible for social and environmental projects in their wonderful home in Cornwall and around the world. What they offer is visually stunning. There is simply nothing else like it on these shores, in fact you'd have to travel the world to find a collection like it. It has been creating unforgettable learning experiences for students and doing important research into plants and conservation, since it opened –doing its best to promote a greener world.
Land's End
With arguably no true wilderness left in the British Isles and so many of our regional traditions fading into the ether of modern life, perhaps it is no surprise that Land's End, simultaneously the most remote corner of England and the place locked deepest in the throes of Celtic lore, conjures up feelings of timelessness, and yet finality for so many people. For others it is, of course, far more literally the end of the line, with the 838 mile journey from John O Groats considered the UK's ultimate long distance challenge, one that is constantly undertaken on behalf of charities or to raise awareness for important issues. For more casual visitors to this great British landmark there is the opportunity to set up your own custom signpost showing the distance to wherever in the world they have travelled here from. From the signpost with its breathtaking views, you can have your picture taken and be inspired by your surroundings. You can also take a look into the 'John O Groats to Land's End Hall of Fame' and see who has made the arduous journey to Cornwall's most famous outpost in times gone by. Maybe it could even inspire you to do the same. Land's end has become one of Britain's favourite destinations for days out, owing to its stunning scenery and landscape. Here, it is agreed that you can come to fully appreciate the constantly changing relationship between sea and land. It can be enchanting. From the cliff tops you can watch as Cornwall transforms from season to season as well as pontificate over the thousands of miles of the Atlantic Ocean which begins here. You can also fit in a bit of souvenir shopping at the West Country Shopping Village, or have a bite to eat in one of the many bars, pubs and restaurants in the area.
St Michael's Mount
Come from the mainland on foot or by boat and explore the amazing island world of St Michael's Mount. Cast away for an island adventure that will teach, thrill and excite. As if plucked from the realm of fantasy, St Michael's Mount rises from the Cornish coastline in splendour, connected only to the mainland by a man-made granite causeway, which makes for a magical approach to this iconic landmark. Atop this rocky island wonder stands a medieval church and castle, which was built at some point during the 12th Century. However, the legend surrounding St Michael's Mount stretches back much further than that, with tales of the archangel himself appearing to local fishermen in the 5th Century AD and the possibility that it was originally discovered by ancient Greek geographer Pytheas even earlier than that. Make your own tales to share, at this magical family adventure spot. Sadly it is considered by Pytheas' contemporary counterparts that any rise in sea levels caused by climate change would put the island at risk so if you do find yourself near this incredible sight at some point during your trip to Cornwall, make sure you experience its grandeur while you still can. One day it may recede in to the ocean like so much of the treasured coastline in these parts. Once you have made the trip over there is a lot to see on the mount, including a beautiful subtropical garden and a great collection of artefacts from its much fabled past. You can take a stroll across the causeway where a legendary giant once walked, discover a tropical paradise, a wonderful community, an exciting history and some great sights to explore. This island is an island, a priory, a harbour and a home. There's also a shop full of Cornish treats!
---
Museums in Cornwall
National Maritime Museum
Ancient mariner or not, you won't need an albatross around your neck before you feel compelled to tell everyone you meet about the story of your trip to the National Maritime Museum Cornwall. Sat on the historic Falmouth Harbour, dipping its toes in the water, the multi-award winning National Maritime Museum Cornwall celebrates the sea, boats and Cornwall. This is not only an important centre of research into the region's seafaring past but also displays an extensive collection of boats and artefacts, which are guaranteed to leave you pining for a life on the ocean wave. It has an exciting range of permanent and temporary exhibitions accompanied by events, talks and more. Likewise if you are a fan of Herman Melville, the museum offers you a unique insight into the story of the ill fated Essex whaling boat, whose disastrous journey departing from Falmouth on the 12th of August 1819 reduced its crew of twenty-one strong to eight, and its surviving members to cannibalism. The story of The Essex's shipwreck was recorded by the ship's first mate Owen Chase who wrote a book chronicling the events, later passed on to none other than Herman Melville by his son as they served on board a whaling vessel together. It is thought that this book largely inspired the ending of Melville's seminal work Moby Dick. There are also many interactive exhibits, including a blockbuster experience which showcases the bravery of the UK's heroic search and rescue workers. With so much to do and see here you'll want to come back again and again. There is currently an incentive to do just that. Buy one full adult ticket and you can come back as much as you like for a year for free. This way not even the English rain can stop your fun!
Porthcurno Telegraph Museum
One attraction that is certainly something to write home about is the Porthcurno Telegraph Museum founded on the premises of the UK's most historically important cable station. From the installation of the first ever underground cable at the end of the 19th Century, Porthcurno quickly became a hub of communication between Britain and the USA. However, it was during the First and Second World Wars that this small seaside town really grew in significance as it became the world's largest submarine telegraph station. To protect this crucial element of British defence during the wars, operations were moved into an underground bunker fiercely protected by flamethrowers strategically placed on Porthcurno beach, videos of which are still on display at the museum. Although the telegraph has unfortunately been rendered obsolete by communications systems such as the internet, it will forever remain an integral part of the nation's heritage and there is much to be learned from this fantastic museum that casts a careful eye over the history of the medium. Today you can visit and enjoy an educational and fun day out. It serves as a reminder of what an important role this area played in the history of our country and the way we communicated with our Empire and places on other shores. The strategic importance of the international cable station resulted in military defence of the site during both World Wars. It is also surrounded by nice attractions too with a number of Victorian properties dotted around the area as the rolling hills a backdrop to be explored or enjoyed from a distance. It is situated in a picturesque valley leading down to the sea, only three miles away from Cornwall's Land's End. Every day is a new adventure here at the Telegraph Museum Porthcurno with an exciting weekly schedule inviting visitors to enjoy exhibits, classes, talks and workshops in history, science and more.
Tate St Ives and the Barbara Hepworth Museum
Certainly St Ives' most popular tourist attraction is the town's art gallery, The Tate St Ives. Built on the site of an old gasworks and offering an unsurpassable view of Porthmeor Beach, it has become one of Cornwall's most important institutions and contains many works from local and international artists alike, with long running exhibitions that appeal across all disciplines and tastes. The Tate St Ives is also responsible for the preservation of The Barbara Hepworth Museum and Sculpture Garden, located just down the road from the gallery. The gallery is delightful. As you'd expect from any Tate, the artwork is spectacular. It has on offer some of the finest art on display outside London and Liverpool. It was here in the studio of modernist sculptor, Barbara Hepworth, that famous works such as 'Single Form' were created all those years ago. Now, tourists flock to the museum, once also her home, for a unique insight into the life of an artist, with much of her equipment and even a few unfinished works still standing in the garden. Even the living room remains almost completely untouched since her death and guests find this perhaps almost as fascinating as her art itself. The artist herself described the place as "magical" This is a rare chance oto catch an insight into the work and vision of one of Britain's most important twentieth century artists. Work is currently underway to make the gallery even more impressive. The new space will make room for even more art and sculptures to enjoy and talk about. They will of course continue to offer their diverse range of exhibitions, events, special exhibitions, curator tours and children's art activities. Come along and see what all the excitement is about.
Heartlands
Following the decline and eventual closure of Cornwall's South Crofty mine in 1998, the areas surrounding the famous Robinson's Shaft grew silent for the first time in 400 years. Bereft of its industry, the heritage of Pool's rich past seemed all but forgotten until in 2007 The Heartland's Trust received funding from Big Lottery Fund's Living Landmarks programme and began work regenerating the area. Now, covering 19 acres of this historic landscape stands Heartlands, the area is home to an all purpose cultural space, complete with diverse, botanical gardens, a whole host of interactive exhibitions and art galleries, the biggest adventure playground in the South-West of England, and excellent facilities including a unique cafe in an old carpenters workshop. Not forgetting the vast landscape that is there to discover! This free visitor attraction can be found just off the A30 in Pool near Redruth. As part of the Cornwall and West Devon Mining Landscape world heritage site, there is a focus on educating visitors about the international significance of these tin and copper mines in times gone by. However, it is also a fantastic place to spend a relaxing day out with the family and with completely free entry, there really is nothing to stop you from checking it out. There is a vast area of greenery and outdoor space just waiting to be explored for when the weather is kind, and so many things to do indoors for when the weather is wet and windy. This is a truly all weather and all year round attraction for the curious explorer in all of us. See, search, play, explore. Of course, Cornwall is peppered with wonderful attractions that can be found all around, so it is easy to combine so many activities. You may wish to stay all day, or alternatively spend the morning here and then see what can be found further down the road. Go explore!